Create Your Custom Cookie Party Favors
Planning the perfect event may feel overwhelming. With Fresh Flours LLC, you can relax knowing your celebration will be a sweet success. We're here to make choosing your party favors the best part! Explore all the possibilities below.
Start by selecting your favorite treat. (Don't worry, we can also accommodate special requests!) Choose from a wide variety of packaging options including cello bags, mini shopping bags, and gift boxes in an array of sizes and colors. All of our custom cookies are individually wrapped. Select one of our creative tags below, and we'll add your name, hashtag, date, and event colors. Looking for something even more personal? Our designer can create a completely custom tag using your invitation, monogram, or logo. Our ribbons in dozens of beautiful textures and colors add the finishing touch to your event favors.
We're ready to create the perfect custom cookie party favor for your event or special occasion. Contact us to get started today!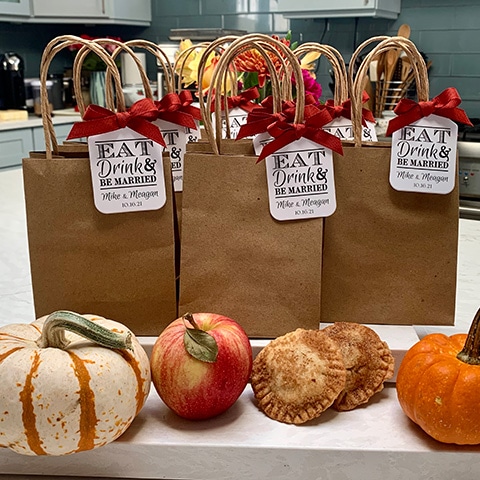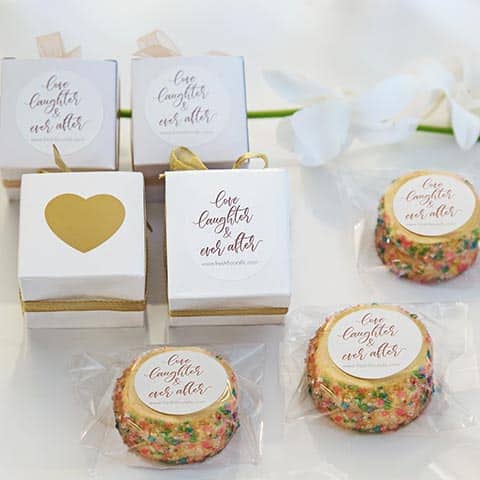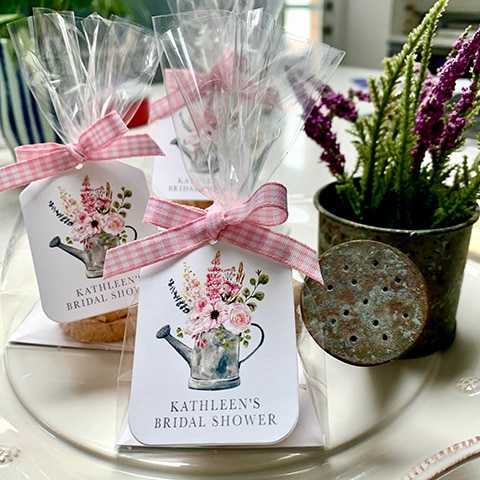 CHOOSE YOUR SWEET TREAT
S'mores Bars
Enjoy your favorite summer treat any time of the year. Graham cracker, chocolate and marshmallow.
*available Gluten Free
Pie Minis
Bite size pies in seasonal flavors strawberry, blueberry and apple.
*available Gluten Free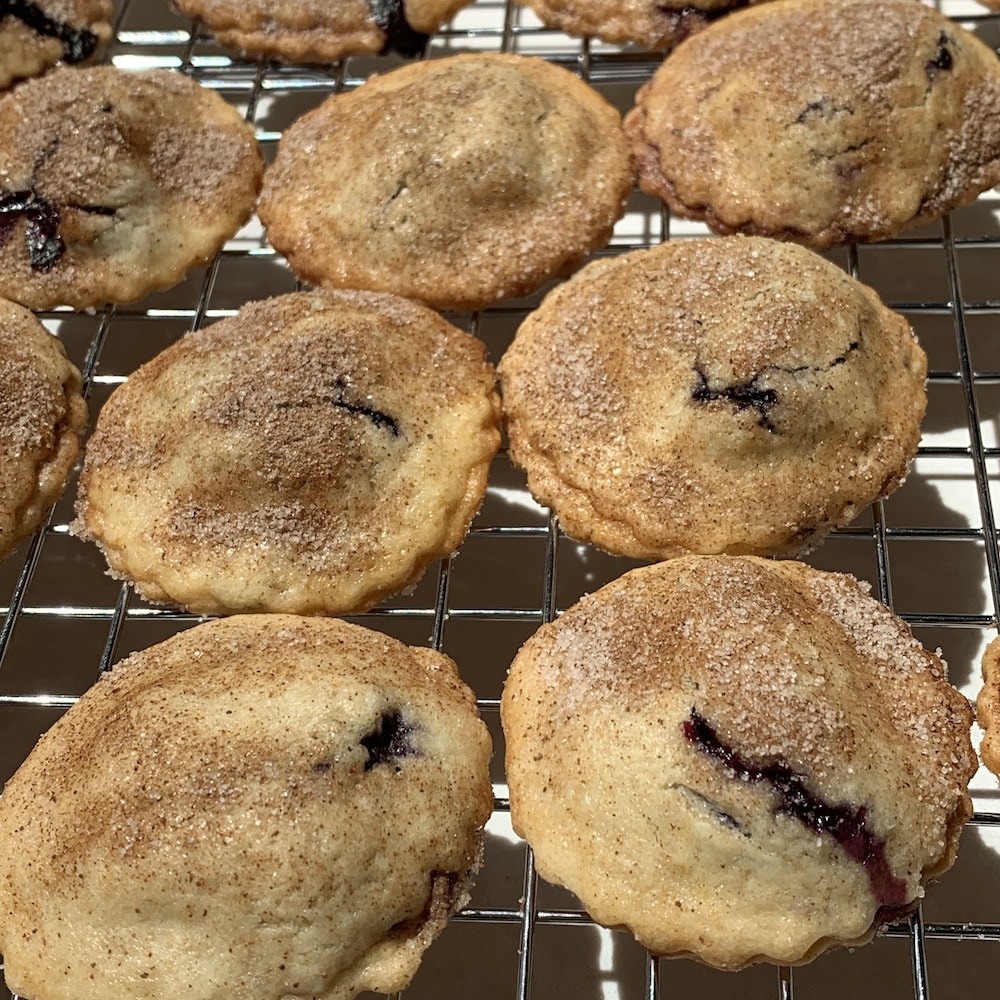 Jammies
A buttery crust, crumb topping and a burst of fruit in the center.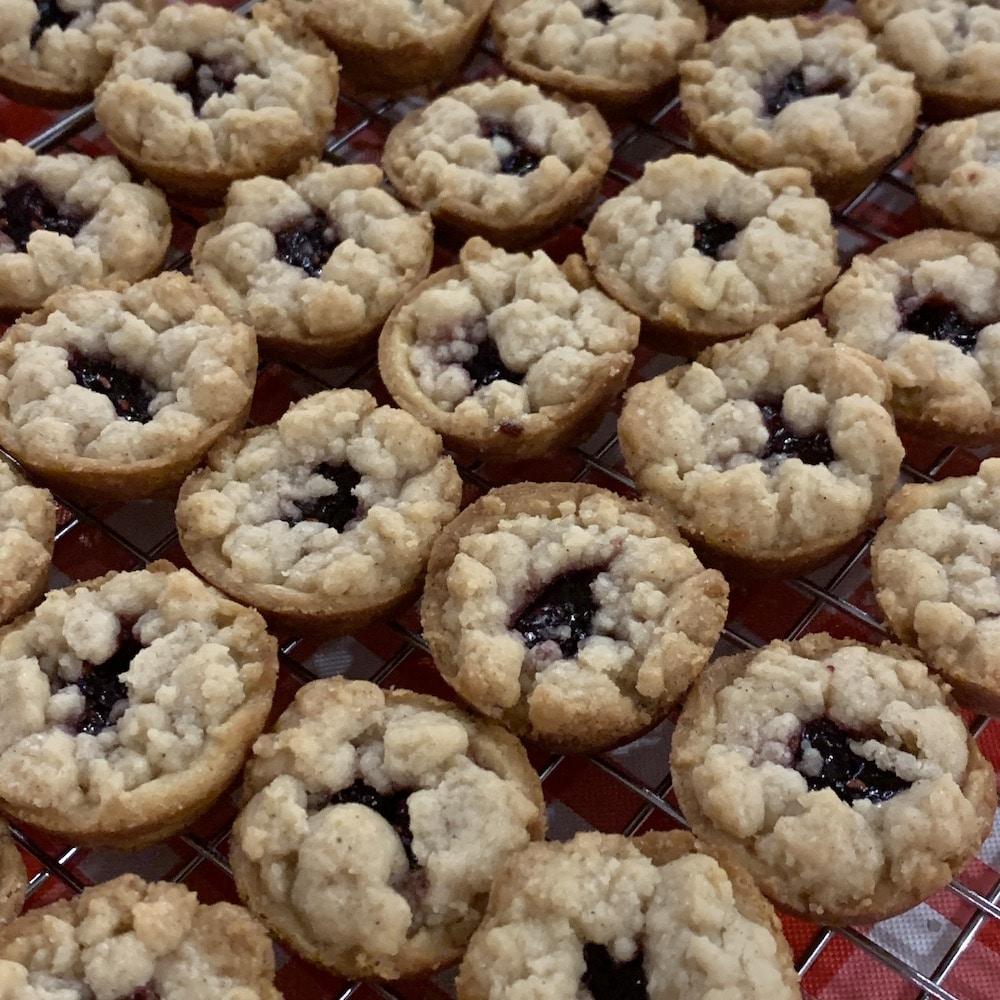 S'mores Crunchy Munch
The perfect snack; salty, sweet, and crunchy, it satisfies all of your snack cravings in one bite.
Best part? You can have more than one bite!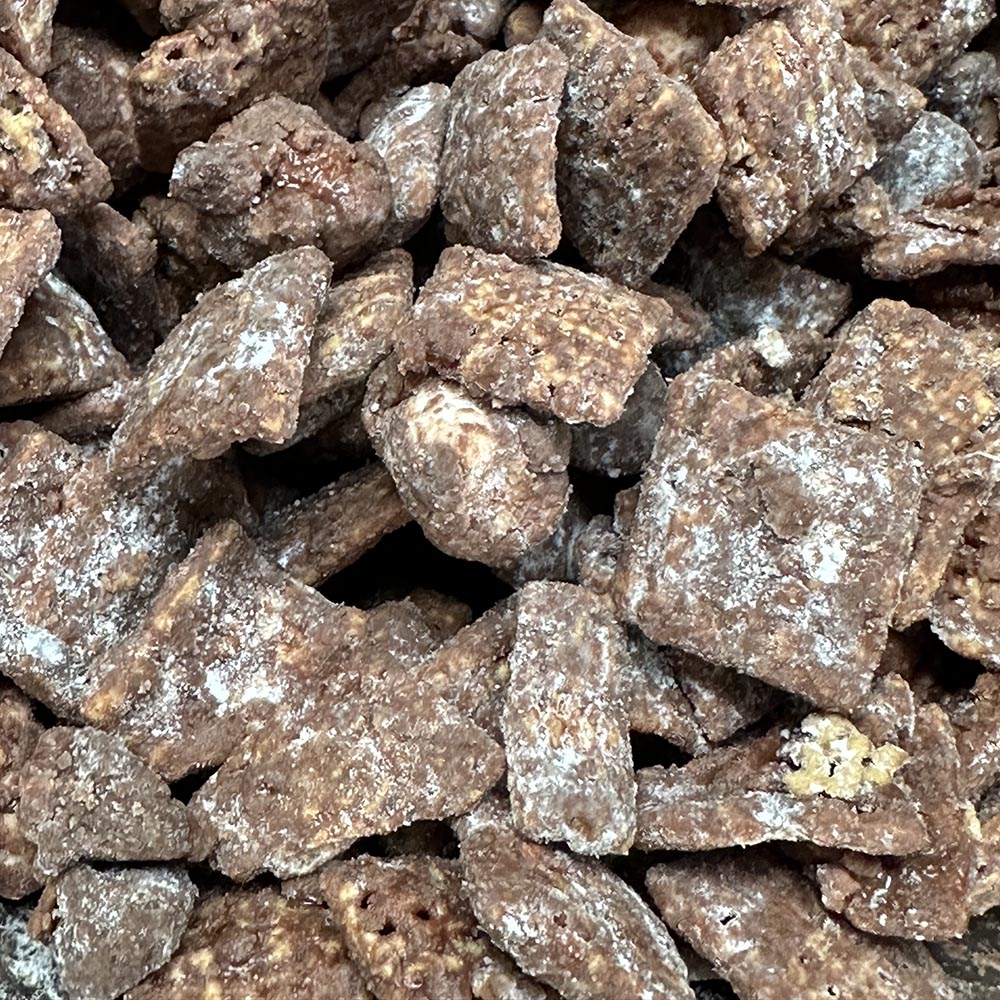 Sables
A gloriously rich buttery sugar cookie with a hint of sea salt. Our sables are available in all the colors of the rainbow or let us custom blend a color just for you. Also available in chocolate – a rich, decadent cookie with a hint of sea salt and a lot of chocolate.

Almond Flour Chocolate Chip Cookies -GF
Tastes like your childhood favorite Chips Ahoy, only better!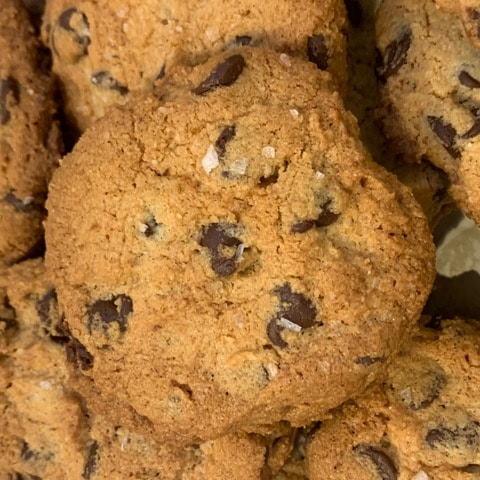 Peanut Butter Pretzel Cookies -GF
These gluten free cookies are a mix of salty, sweet, and crunchy.  Can add chocolate chunks.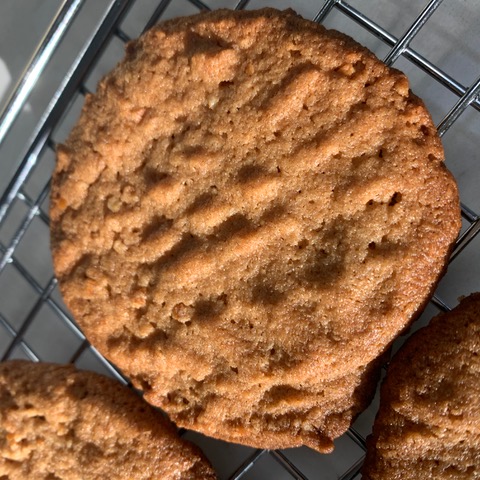 Dark Chocolate Peanut Butter Chip Cookies -GF
Everyone's favorite combo, peanut butter and chocolate in a rich, crumby cookie.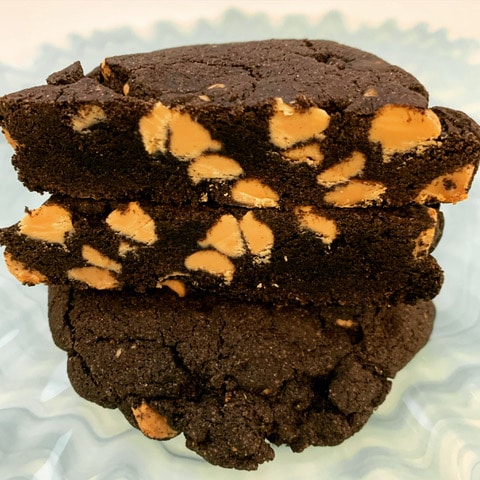 Rugelach
Flaky dough surrounds nuts, cinnamon, and sugar in your choice of traditional flavors that everyone loves.

APRICOT

CHOCOLATE

RASPBERRY
Blondies
A twist on the classic with pecans, coconut, and milk chocolate chunks.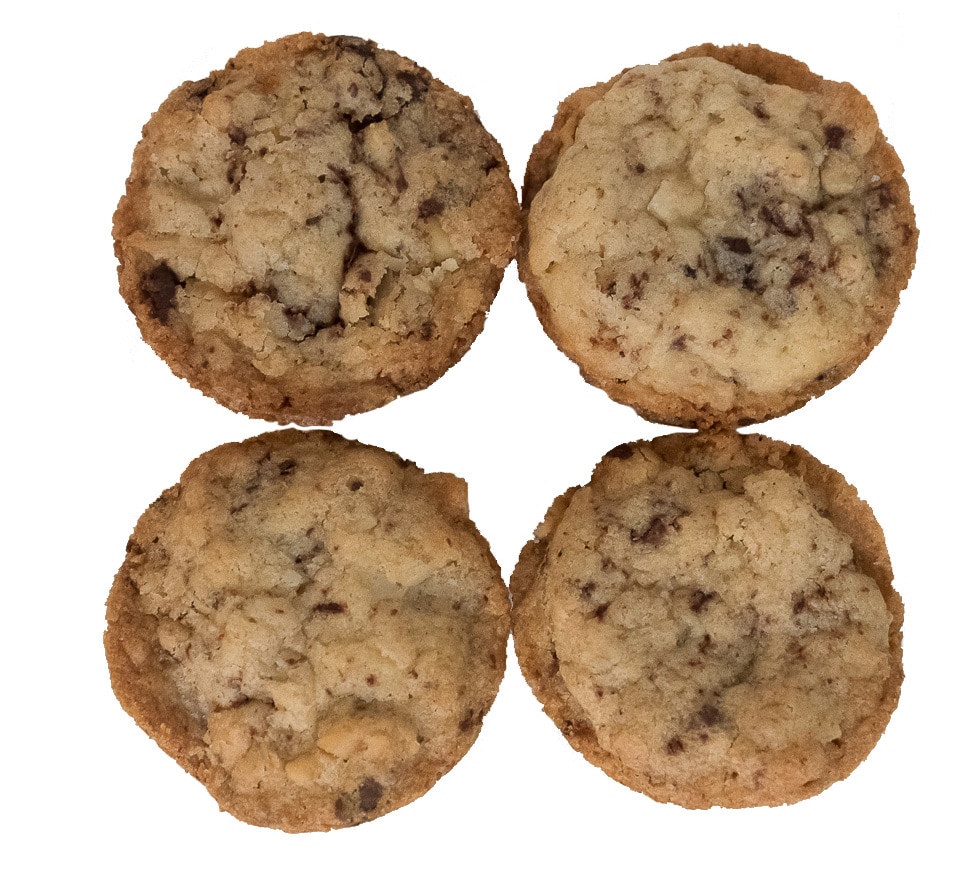 Biscotti
Double chocolate walnut happiness. Other sweet and savory varieties available.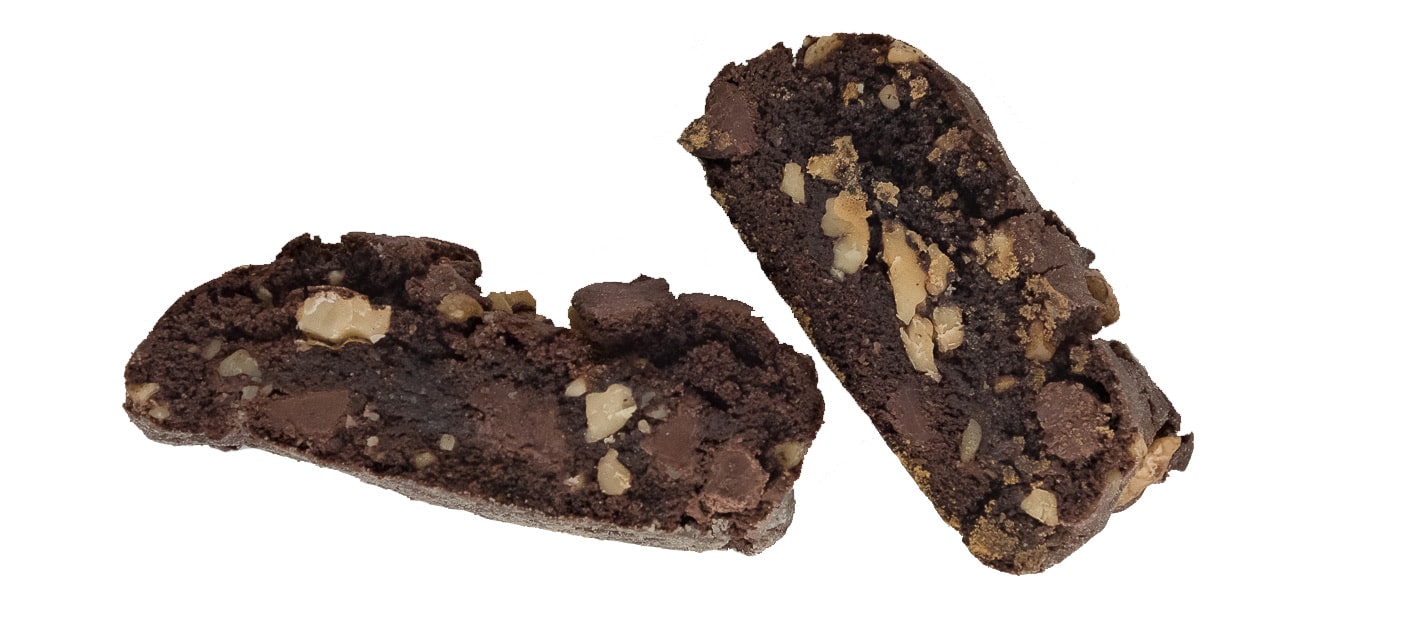 Chocolate Chip Cookies
Our chocolate chip cookies are thin and crispy, baked to perfection!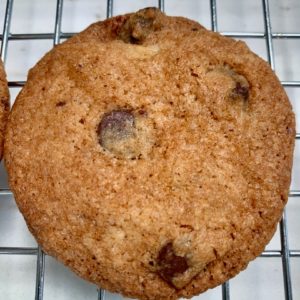 Oatmeal Raisin Cookies
Old school big cookie with a hint of cinnamon and raisin.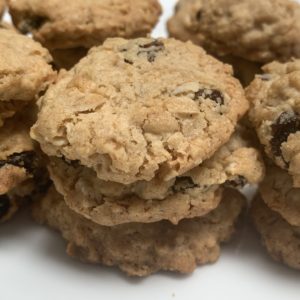 Peanut Butter Cookies
Gluten-free, delicious, guilt-free cookie (at least for flour).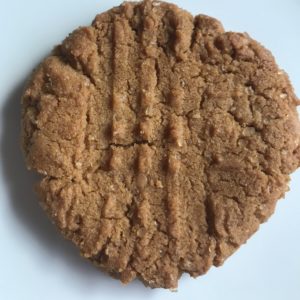 CHOOSE YOUR PACKAGE


CHOOSE YOUR RIBBON


CHOOSE YOUR PERSONAL TAG

WEDDINGS · ENGAGEMENTS · SHOWERS · BIRTHDAYS · BABIES · BAR/BAT MITZVAHS · CORPORATE EVENTS · ALL CELEBRATIONS