It's one of our favorite weeks of the year, Thanksgiving! As you brew your morning cup of coffee and kick those feet up to watch the Macy's Thanksgiving Day Parade, there's no sweeter start than an apple muffin.
So, how do you make those perfectly delicious, moist muffins everyone loves? The key to baking apple desserts or muffins is in the apples themselves.
What are the best baking apples?
Not all apples are created equal. The best types of baking apples hold their shape when baked in the oven.
At Fresh Flours, we love getting our baking apples like Granny Smith, Winesap, and Cortland when we visit Long Island or Hudson Valley Apple Orchards each fall or weekly from our local farmer's market.
If you are pressed for time, stop in your local grocer to browse their selection. Most grocery stores have a pretty good variety this time of year.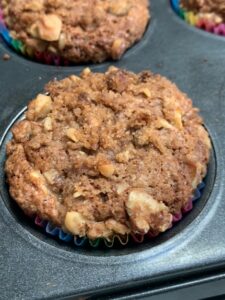 Season after season, we've been creating and perfecting this apple muffin recipe. Check out the recipe, and following along with us through our full video below!
A Quick Reference:
Apples can vary in size, and therefore can be a bit tricky to measure out. Here's a great reference whenever you're using baking apples:
One large apple = 2 cups of sliced apples, 1.5 cups finely chopped, ¾ cup of sauce
One medium apple = 1 1/2 cups of sliced apples, 1 cup finely chopped, ¾ cup of sauce
We normally recommend sticking with large or medium-size apples for baking.
Tart vs. Sweet
Apple flavors fall somewhere on the scale from tart to sweet. We personally love using a balance of flavors in our apple baking recipes. Some of our favorites include:
Empire
Cortland
Honeycrisp
Winesap
Jonagold
Mutsu
Braeburn
Granny Smith
The New York Apple Association is a great reference for bakers and apple lovers everywhere, and one we've been following for more than 20 years. One of our all-time favorite apple baking recipes is The Official New York State Apple Muffin (and it's about to be one of yours too!).
The Official New York State Apple Muffin Recipe
Are you ready to warm the hearts of your Thanksgiving guests with warm apple muffins? Try out the recipe below, and tag us on Instagram with your creation!
*This recipe was originally published in 2000, New York State Apple Association, Inc.
Ingredients:
Topping –
½ cup walnuts
½ cup brown sugar
¼ cup flour
1 teaspoon cinnamon
1 teaspoon grated lemon peel
2 tablespoons melted butter
Combine above and set aside.
Muffins –
2 cups flour
¾ cup brown sugar
½ cup sugar
2 teaspoons baking soda
½ teaspoon salt
1 ½ teaspoon cinnamon
½ teaspoon cloves
1/8 teaspoon nutmeg
2 cups of apples, coarsely chopped
½ cup raisins
½ cup walnuts
3 eggs, slightly beaten
½ cup butter melted
4 ounces cream cheese cut into small pieces
½ teaspoon vanilla
Combine flour, sugar, salt, spices, and baking soda, and set aside.
Preparation Instructions:
Wash your hands
Preheat the oven 375
Line muffin tin with liners
Combine apples, raisins, walnuts, eggs, butter, cream cheese, and vanilla. Add dry ingredients, a little at a time to the apple mixture.
Stir until just combined.
Do not over-mix.
Portion batter into muffin papers, sprinkle with topping. Bake 375 degrees for 20 to 25 minutes.
Makes 2 dozen delicious apple muffins
Looking to make these apple muffins gluten free? Try replacing the flour with Cup4Cup or a gluten-free equivalent flour replacement!