Your wedding experience begins well before you say "I do," especially if you're hosting a destination wedding or out-of-town guests. Even though some COVID restrictions are lifting, testing or vaccination is still required in many cases, and travel, in general, is not the easiest right now. Your guests have likely made an incredible effort (and investment) to celebrate with you in person. Though, in theory, it would be amazing to greet all your guests upon their arrival, this idea is unrealistic due to the plethora of things you have to do for the big day. So, what's the next best alternative? Creative and personalized wedding welcome bags and gift boxes! Kick off your event in style, and let your wedding welcome bags take care of the warm, appreciative greetings for you.
There's really no right or wrong way to welcome your guests to the festivities. However, there is definitely a better way. Here are our five tips for creating elevated and unique wedding welcome bags.
1. Consider the presentation.
Wedding welcome bags for hotel guests can be presented in a number of ways. We recommend you start by thinking about your wedding location. For example, if you're at a resort, a beach welcome bag can double as a welcome gift and a practical way for attendees to carry things around the property. If your wedding is in a city, space is likely limited, so a smaller box may be easiest for storing in the room. You may also want to incorporate an element of your wedding style. A wooden crate would be perfect for a rustic wedding welcome, while a modern wedding may opt for a sleek box. Don't feel that you need to get carried away, though. If you have a limited budget, you're better off spending your money on the content of the welcome gift rather than the bag or box itself.
2. Leave a personal touch.
Having personalized welcome bags, does not mean you need to invest in branded bags or monogrammed boxes. In fact, we usually don't recommend it as your guests will likely never use a bag or box with your wedding hashtag or monogram again. There are many more economical but equally effective touches you can add, such as customized cards, handwritten calligraphy notes, and personalized tags on the items inside. We love to Infuse these printed pieces with elements from your invitation or wedding suite such as a monogram or emblem. You may also opt for something still personalized but more related to your wedding theme or destination.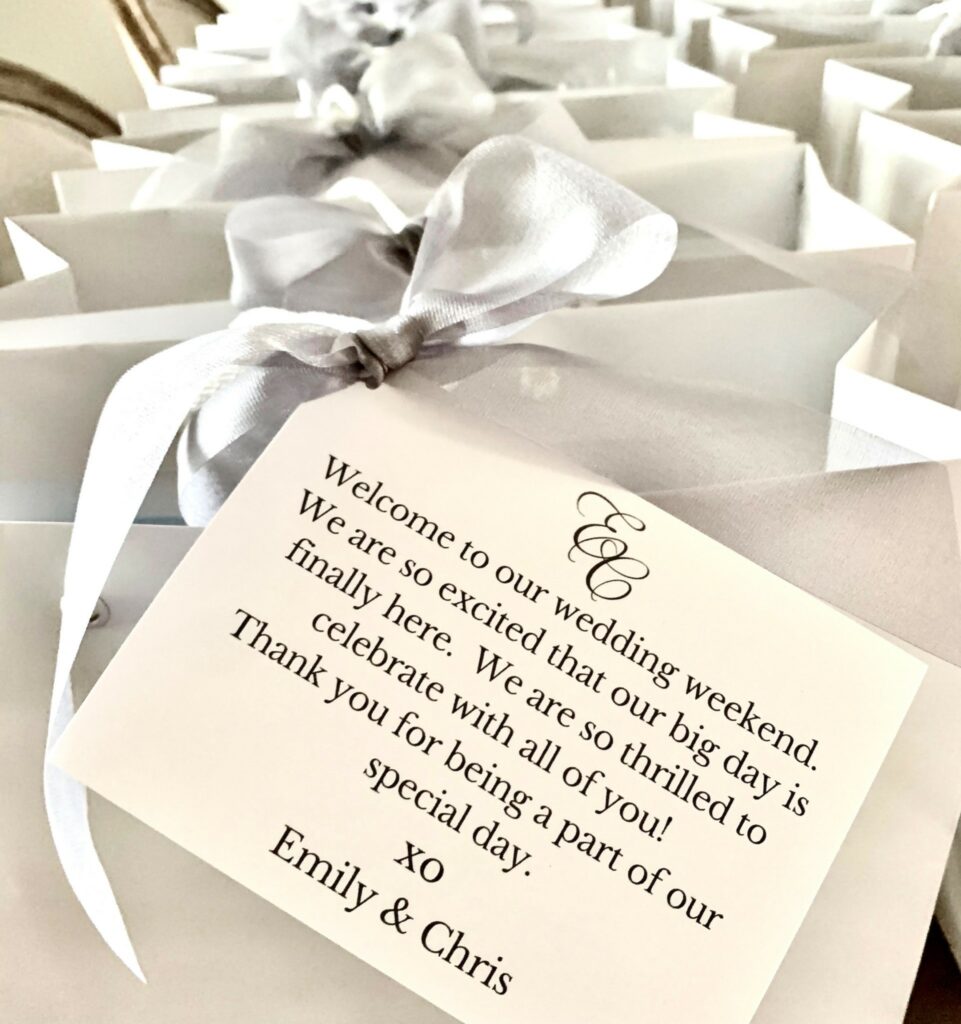 Another very fun idea is to add an illustration of your pets to personalize it even more and include your favorite furry friends. We used an illustration of the couple's French bulldogs throughout their Welcome gifts.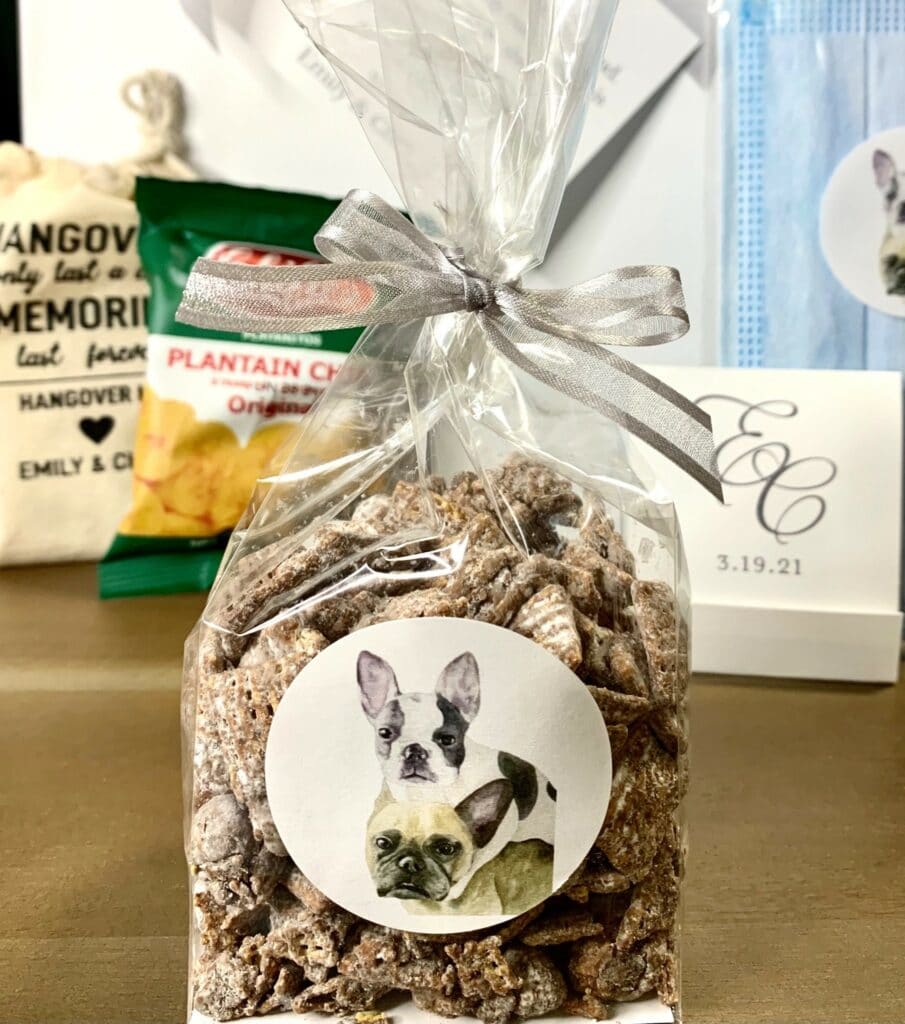 3. Set the tone for your wedding day or weekend.
No matter how you choose to present and personalize your wedding welcome gifts, keep in mind this is the first interaction your guests will have with your event. It is really one of the best forms of storytelling leading up to the big day. Walk people through what they can expect by including itinerary cards with times, locations, and dress codes. If your guests will have lots of free time, you may want to add a local area map or a list of your favorite nearby activities.
4. Make it local.
Wondering what to put inside welcome bags for weddings? This is our favorite part! We love placing the focus on all things local, especially for destination wedding welcome gifts. For our Long Island couples, we've packaged many creative welcome boxes filled with goodies from local Long Island businesses. With more intimate weddings being the norm now, you have an opportunity to elevate the guest experience even further with the types of items you include in your gift boxes. Still feeling stuck? Jump to an extensive list of ideas below!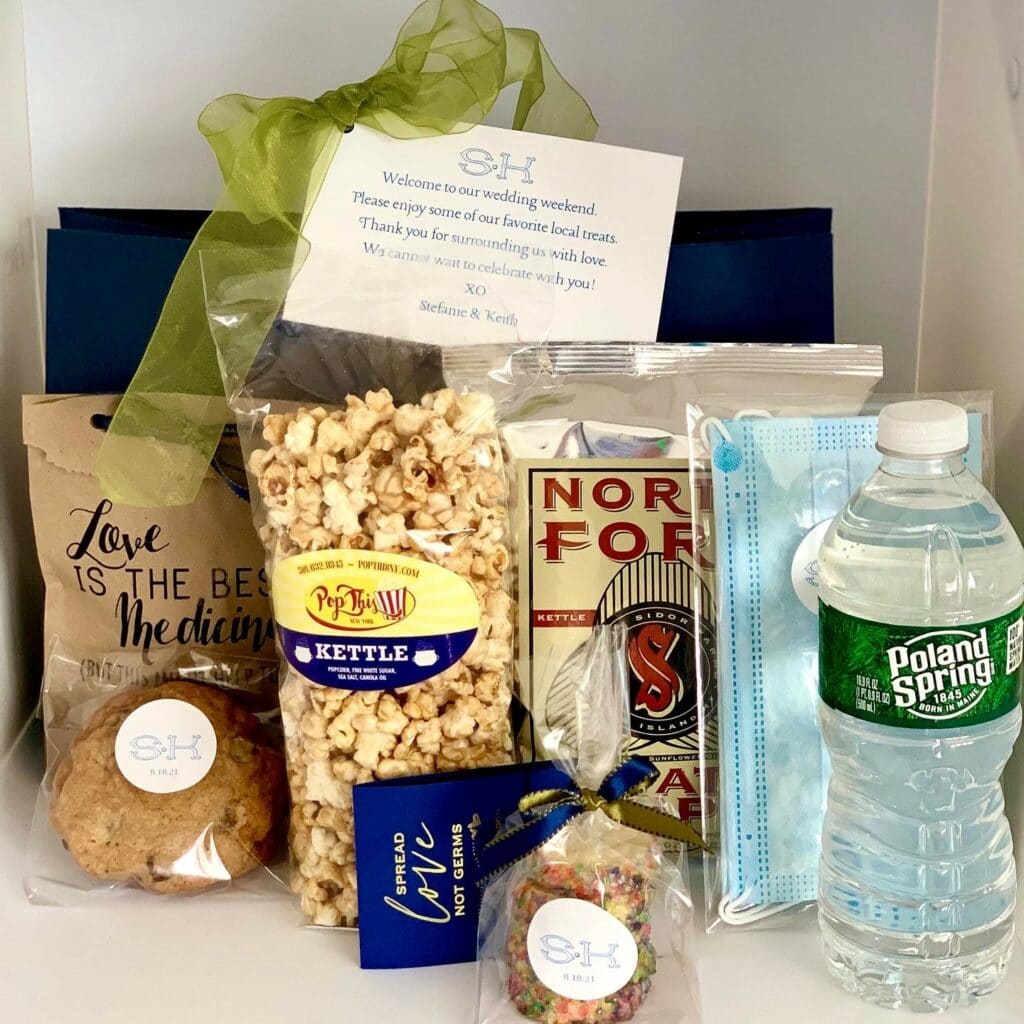 5. Think about the guest experience.
Are there certain things your guests may need while staying overnight for your wedding? Hangover kits are always a popular hit as they can contain necessities like Tylenol, Band-Aids, mints, vitamin boosters, earplugs, and makeup remover wipes. Water bottles are always appreciated (that hotel water can be so pricey!). If your wedding is outdoors, consider what your guests may need for the elements. A fan and mini sunscreens would be perfect for a beach wedding welcome, while Chapstick or hand-warmers would be much appreciated during a winter celebration. If there's rain in the forecast, why not add in some disposable rain ponchos too?!
While the focus will be on you the entire weekend, it's nice to have an element of your event that focuses completely on your guests. A beautifully packaged and creative wedding welcome bag shows a level of gratitude and appreciation for the efforts your guests made to be there with you to celebrate. Have you thought about other ways to thank your guests for attending your big day? If not, you may want to also check out our recent post about how to create the perfect party favor.
BONUS: Here are some more suggestions for your wedding welcome gifts!
Snacks
Local/unique snacks
Savory popcorn
Cheese straws
Dried mango or other dried fruit
Drinks
Mini champagne or rose
Local coffee or small bag to take home
Water boxes
Coconut water
Sparkling water
Fun Elements
Illustrated map of the hotel or local area
A printed Spotify QR code with a personalized playlist for the weekend
Bubbles
Sparklers
Do not disturb signs
Health
OTC medicine packets
Sanitizer – wipes or bottles
Disposable masks