The smell of fall baking is officially in the air (and we couldn't be more excited). The transition to fall is one of our favorites – cooler air, changing leaves, cozy scarves, yummy comfort foods – what's not to enjoy?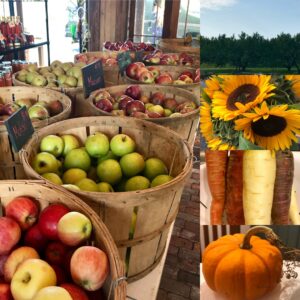 If you're on the hunt for fall event treats or fall wedding favors, you'll fall in love with what's on the seasonal menu at Fresh Flours. We love incorporating delicious spices like cinnamon, nutmeg, and cloves, with seasonal ingredients like apples, pumpkins, cranberries, and cider. If only we could box up the smells in our kitchen for you too!
As you plan your celebrations for the coming months, we're here to help you shorten your to-do list. Learn more about our favorite fall favors (and we guarantee they'll be your guests' favorites, too!).
Cookies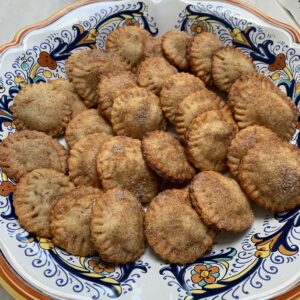 Apple Pie Minis
Your comfort dessert, but bite-sized. The balance between fresh local apples and cinnamon can't be beat.
White Chocolate Cranberry Biscotti
The perfect pairing with your fall cappuccino.
Baked Apple Cider Donuts
Everything you love about donuts – but baked, not fried. Dipped in cinnamon sugar, your guests will be raving about these.
Apple Cinnamon Rugelach
A new twist on traditional rugelach, ours are filled with nuts, raisins, apples, and cinnamon, of course!
Pecan Pie Rugelach
An ode to our favorite fall holiday, Thanksgiving, you'll be thankful for the flavors bursting in every bite.
Give your guests the best this season! All of our fall favors are available with personalized packaging and ribbons that match the season or your event color scheme.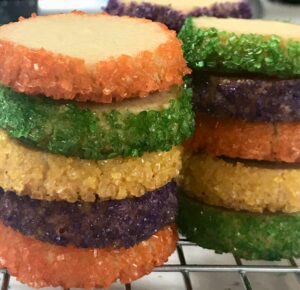 Apple Oatmeal Cookies
With a soft inside and crunchy outside, you'll never be able to eat just one! We handpick our apples from the best local farms (we especially love apple picking in the North Fork of Long Island).
Signature Sables
The signature sables (our best-selling custom cookies) are now available in a fall color palette. We can coordinate the sugar to the color scheme of your event!
Pumpkin Spice Cookies
Pumpkin spice and everything nice, all baked into a delicious treat.
Sweet Treats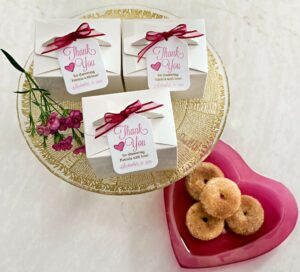 Here are some of our favorite ideas for fall wedding favors and fall events:
Apple Pie Minis in eco-friendly glassine or wax-paper-lined bags.
Signature sables with sparkling jewel-tone sugar in cello bags with a custom event tag.
Baked apple cider donuts in mini gable boxes with a personalized Fresh Flours tag.
And if you can't pick your favorite treat, you don't have to! We custom-bake every order, so you can mix and match within an order to include all your favorites.
Are you as excited as we are for fall? Contact us to place your order today; we promise it will be unbe-leaf-able! (Sorry, we couldn't help ourselves!)