In the wake of the global COVID-19 pandemic, travel simply isn't what it used to be. In fact, it's a bit of a nightmare. Travelers are experiencing longer lines, delays, and more frequent cancellations than ever before.
Imagine your wedding guests dealing with all of this additional stress just to make it to your big day. Not to mention the costly investment in attending your wedding. Especially for out-of-town guests, your event starts from the moment they arrive. That's why we believe there's no better way to say welcome to our wedding than with beautifully designed (and also delicious) wedding welcome boxes or gift bags.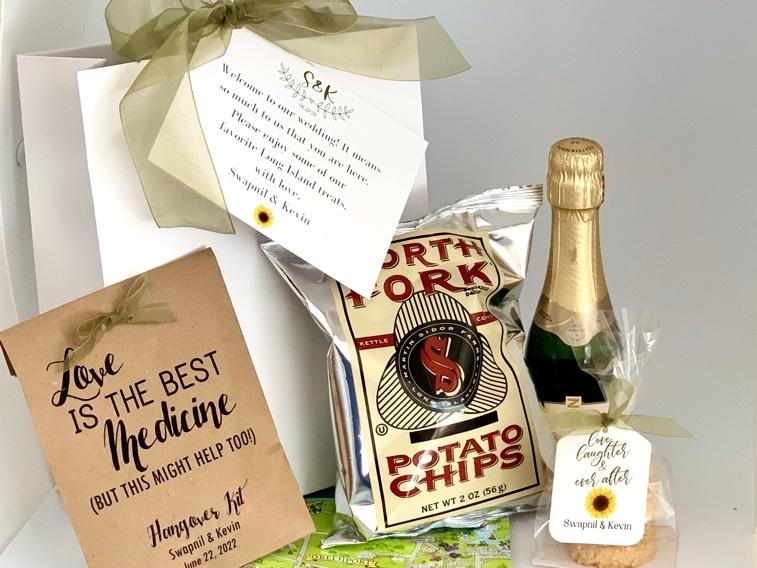 Should You Give Your Guests Destination Wedding Welcome Bags?
A little gift packs a big punch – especially after a long and expensive day of travel (whether by car, plane, or train!). Guests will appreciate the thought you put into their wedding welcome bag, especially when it's the perfect balance of fun and practical. With a smaller, more intimate wedding, welcome gifts can be even more personalized and impactful.
Here's why we strongly believe in including wedding welcome boxes or gifts in your wedding plans:
They're Useful
Welcome bags are a fantastic way to kick off the big weekend. They usually provide your guests with a schedule of events and local recommendations as well as some items they might need for the days ahead.
For example, if you have a destination wedding at the beach, consider filling the bag with mini sunscreens, a folding fan, a few travel-sized bottles of water, and maybe even some travel-sized bottles of aloe vera (no one wants an itchy burn to complement their wedding attire!).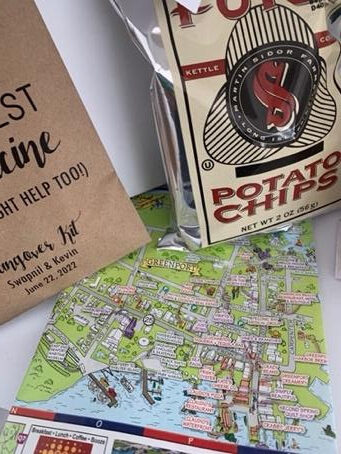 They're Inexpensive
One of the biggest advantages of welcome wedding gifts is that they leave a lasting impression without breaking the bank.
There's no need to splurge on elaborate or big-ticket items here. Going for a few of your favorite snacks and/or a small personalized gift can really go a long way. Remember: bigger isn't always better- especially when it comes to destination wedding welcome bags!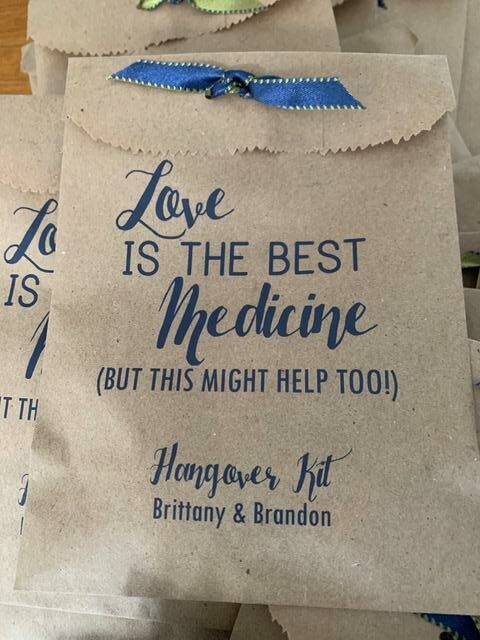 They Add a Personal Touch
There's an undeniably memorable touch that you can achieve with personalized welcome bags. Since they're highly customizable, you're in control. You can personalize the bags themselves, as well as everything inside, around your wedding's theme, colors, and overall aesthetic. It's the perfect way to get creative and add a personal touch that will wow your guests.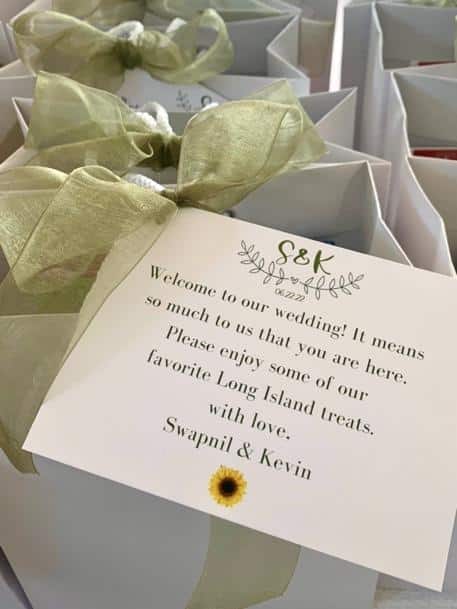 Welcome Bag Ideas For Weddings Near and Far
Wondering what to put inside wedding welcome bags? Look no further! We've got this down to a science here at Fresh Flours, so you can fill your wedding welcome bags with everything your guests will love and nothing they'll want to leave at the hotel.
Think Useful
When it comes to figuring out what to put inside wedding welcome bags, the most important thing to keep in mind is utility. You'll want to include things your guests can use to enhance their weekend. Think lightweight and useful. Travel-sized hangover kits, hair-ties and band-aids, and water bottles are some of the most practical things to include in your destination wedding welcome bags. Don't forgot the weekend itinerary and a small thank you note as well!
Fill Them With Flavor
Custom cookies and other sweet treats make the perfect addition to your wedding welcome boxes. Who wouldn't want to snack on some homemade goodies upon arrival or after a long night of partying (if they even last that long)?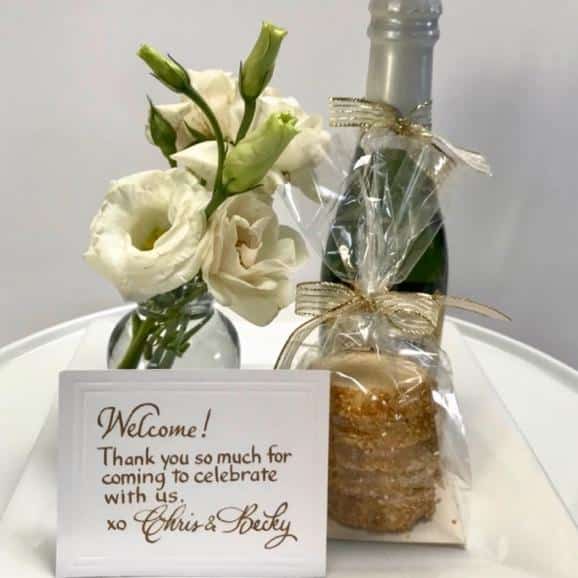 Go Local
When it comes to packing snacks, going local is always the best option. It's a great way to support small, local businesses while giving your guests a (literal) taste of the area they traveled all this way to enjoy.
At Fresh Flours, we pack our wedding welcome bags with all sorts of signature Long Island goodies. We use vendors like North Fork Potato Chips or Pop This NY to add an element of savory (salty and crunchy) contrast to our (sweet) custom cookies.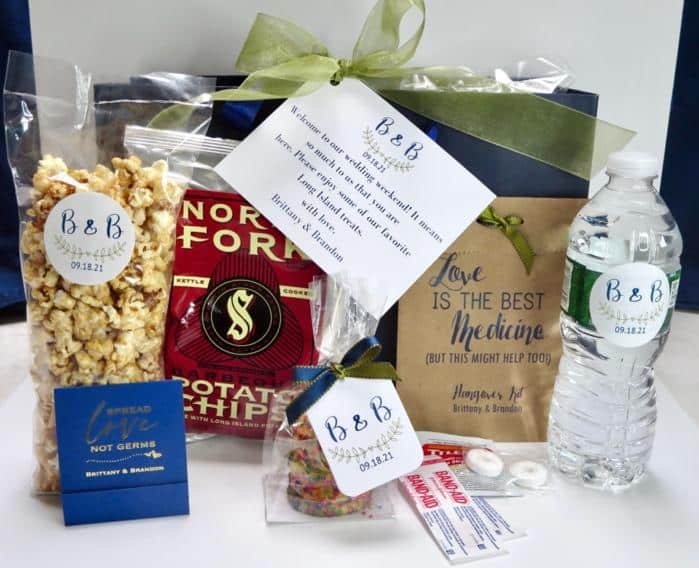 Get Seasonal
Depending on when your wedding is taking place, you have a fun opportunity to play up the seasonal theme with your wedding welcome boxes and even your wedding favors. Seasonal treats are some of our best-sellers and let your guests know you really went the extra mile to tie everything together.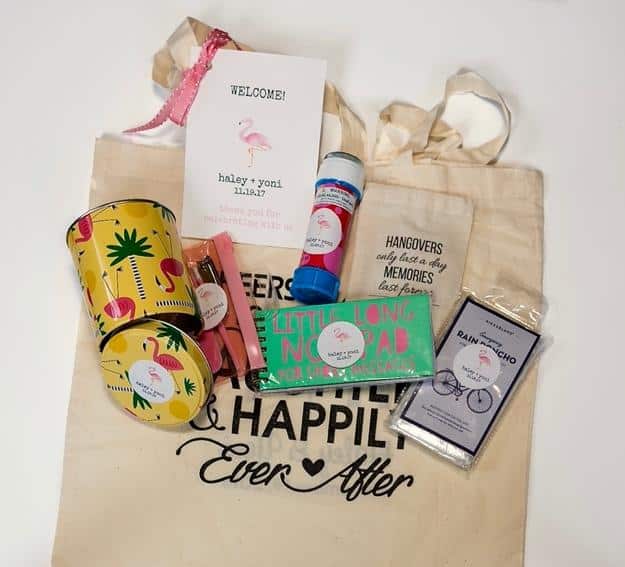 There's No Better Way to Say Welcome to Our Wedding Than With Wedding Welcome Gifts from Fresh Flours
We hope you now have plenty of welcome bag ideas for weddings.
Ready to get the party started? We have the best wedding welcome boxes for your guests.
Get in touch here to chat about your wedding and how we can bring your dream wedding welcome gifts to life!