We get it: planning a wedding can be stressful. With so many moving parts, it's no wonder couples enlist the help of event planners, parents, and even wedding party members to ensure things don't slip through the cracks.
But there's an important checklist item that's been a hot topic lately (so don't let it fall to the bottom of your wedding to-do list!). You guessed it – wedding guest favors!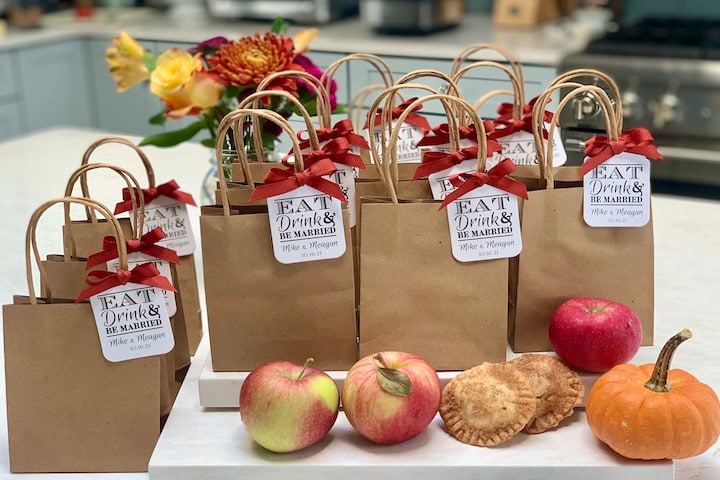 Did you know that 56% of couples send their guests off after the big day ends with personalized favors?
Out of all the options out there, custom cookies in personalized packaging make the best wedding guest favors. Why? Keep reading to find out.
The Benefits of Incorporating Wedding Guest Favors into Your Big Day
A Way to Say Thanks
When it comes to planning your wedding, it's definitely all about you. However, don't forget that your guests are also investing time and money to come to celebrate your special day.
According to a recent poll, the average wedding guest will spend up to $3,000 for each wedding they attend in 2022. Think about it: your guests are spending on travel, accommodations, attire, and of course, a gift. Plus, thanks to inflation, the cost of everything has increased. Even if you're not having a destination wedding, your guests will likely still feel the inflationary squeeze.
Sending your guests off with personalized wedding guest favors is a fantastic way to show that you appreciate them for making the effort to attend your wedding. (The experts say that the best way to show you care about your guests is with custom baked goods, but more on that later!)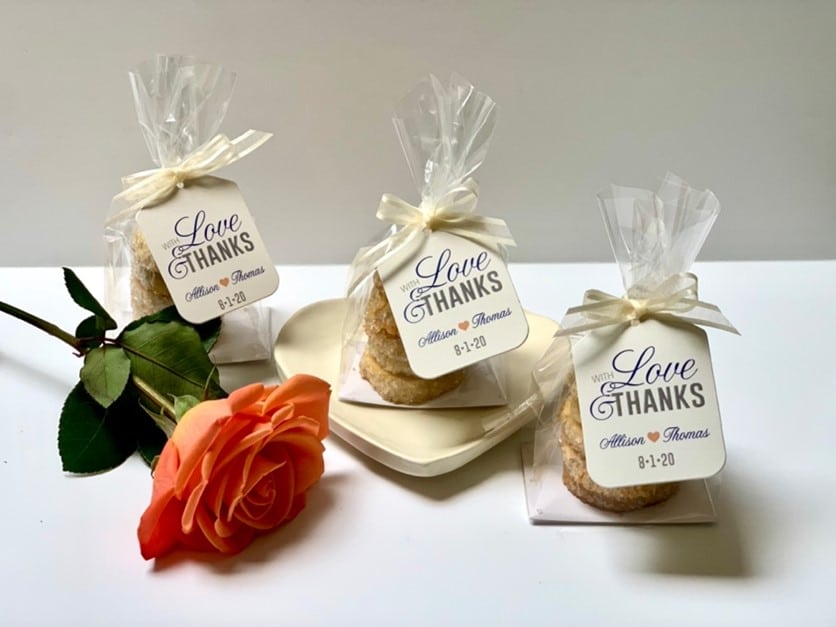 Minimal Cost, Maximum Impact
According to The Knot, couples spend an average of $266 per wedding guest. When you're on a wedding budget, every bit counts. You want to execute a beautiful event without breaking the bank to do so. When chosen wisely, your wedding guest favors are an ideal way to elevate your event at a minimal cost. Be wary of any buy-in-bulk, chotchke-type favors, though. Just as they're low cost, they typically look low-quality and low-effort to your guests as well. (And often won't even leave the venue as many guests won't take them – talk about a waste!)
Luckily, we have the perfect solution for you – wedding favors cookies that are cost-effective, memorable, and delicious.
Add a Personal Touch
Every wedding is different. Some boast long guest lists with extravagant themes and decor. Others are small, intimate, and rustic. No matter the type of wedding, personalized wedding guest favors will make sure each of your attendees feels special.
We might be a little biased, but we think custom wedding cookies are by far the #1 choice for wedding favors. Here's why.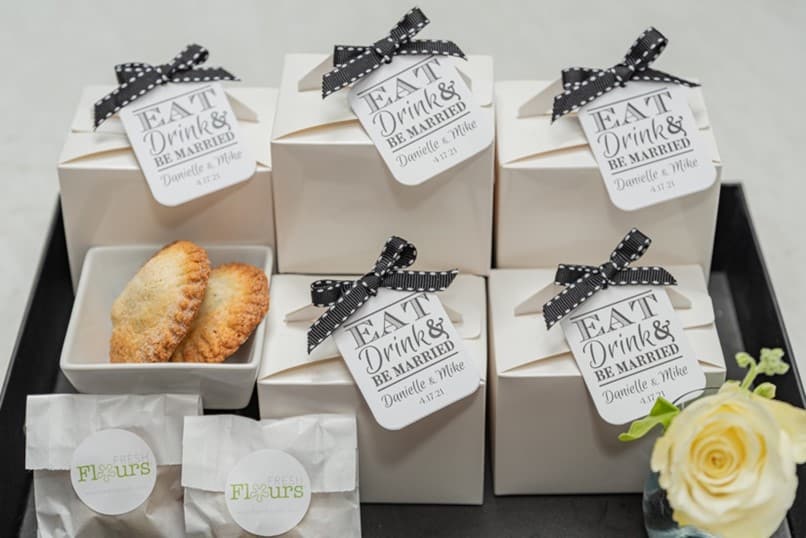 Why Custom Wedding Cookies Make The Best Wedding Guest Favors
Now that we've covered all the reasons to say yes to wedding event favors, it's time to review why custom-made cookies are the best choice for your event. While there are many options for wedding guest favors, cookies are cute and practical. After all, does anyone really want another chotchke with your name on it? All the experts agree, you can never go wrong with cookies!
So, ditch the items that'll end up in the bottom of a closet or even worse, left on the table at the end of the night, and go for something your guests will actually enjoy: custom-made cookies!
Here's some of the top reasons to choose the best best baked goods for your wedding guest favors in 2023!
They leave a lasting impression. Your guests will be impressed with not only the flavor but the intentional and artful design that ties in seamlessly with your wedding aesthetic. Plus, who doesn't love baked goods that look and taste incredible?!

They're meaningful. Working with a professional that specializes in wedding guest favors ensures that everything from the flavors to the decoration and packaging is highly customizable. When you choose to order custom cookies from Fresh Flours, you end up with custom wedding cookies that actually mean something to you and your partner.
They're customizable. One of the main advantages of personalized wedding cookies is your ability to tailor them to your specific event. Anything from the flavor to the sugar accent to the packaging can have your signature touch. Your guests will appreciate the highly thoughtful gift and will be talking about it for weeks to come.
They're budget-friendly. Custom cookies will cost you around $5 – $7.00 per guest, and mini favors only cost about $3 per guest. Either way, using baked goods is a fantastic way to cut some costs while still delivering something delicious and memorable for each guest.

They're trendy. The experts agree – there's undoubtedly an edible favor trend, and you're going to want to jump on it.
They're delicious! Who would turn down custom wedding cookies at the end of a long night of partying?! Especially when they're from an award-winning Long Island bakery.
Favors To Savor
We get asked all the time if you should plan to give favors for your guests at your various wedding events, and our answer is always yes. Personalized wedding favors are an absolute must. And who doesn't love baked goods and cookies?
Fortunately, you're in the right spot. Ditch the headache and the stress of wedding planning and allow us to handle flavor-packed favors for your next event delivered directly to your venue.
Get in touch with us here to order custom cookies or to learn more about your customization options!